Angled and open, like two hands raised for communion. If you're given to exaggerated religious analogies when it comes to books – as we apparently are.
The CSB-1
As close as you can get to a TV stand, without it being a TV stand.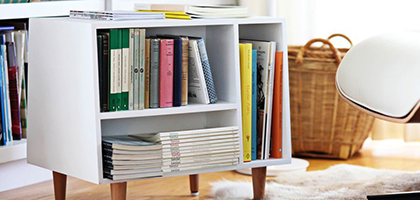 And Assorted Artwork
Like this original Lawrence Ferlinghetti poster, in all its beardy and biblically overtoned glory.
Book-wise, BOOK/SHOP collates its stock into collections.
Up now: Collection #12, featuring original editions of everything from the New American Story collection (Burroughs, Creeley, Dorn) to type-design catalogues.
No dusty stacks here, only inspiring arrangements of decorative books and objects alongside lust-list seating.
Looking at you, Eames recliner.
The Specifics
482D 49th Street, Oakland
inside Temescal Alley
Open Tue-Sat from 12-5.
(510) 907-9649